Webrageous, which specializes in Google Ads management for law firms, has seen as much as 20% of clients' clicks coming from outside of their service areas—in spite of Google Ads' location targeting. The firm recommends extra optimizations to eliminate wasted clicks.
(PRUnderground) February 24th, 2022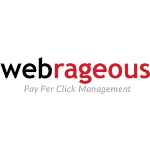 For over 20 years, Webrageous has been managing PPC (pay per click) campaigns for attorneys. Their latest analytics have revealed that even with Google Ads location targeting features activated, some businesses are getting a significant number of clicks from outside of their service areas.
"With one of our clients in West Palm Beach, we noticed that they were getting clicks from Miami and Orlando even though their Google Ads location targeting features were set correctly," said David Chapman, Webrageous President. He added that some of his clients were wasting up to 20% of their click budget on clients who were coming from outside their service area before Webrageous adjusted their campaigns.
"To stop the bleeding, we went in and made a number of optimizations, including adding negative areas," said Chapman.
After catching this loophole in his Google Ads management for lawyers, Chapman is advising anyone advertising on Google to check on their location targeting in Google Analytics. He said they should then go to Audience—Geo—Location and select only paid traffic. From here, businesses can ensure that location targeting is set up properly.
If the configuration is correct, Chapman said to check analytics to see where unwanted paid clicks are coming from and add excluded states, regions, and countries to eliminate click waste.
"It seems like a redundant step, but it's actually imperative for making sure you are only targeting the areas you service," said Chapman. "Not a lot of people know about this, but it's a big opportunity to improve ROI."
Webrageous prides itself on its unparalleled vigilance in checking clients' analytics and tweaking their campaigns as often as needed to ensure the highest possible return on investment. With their depth of experience with PPC management for attorneys, they have learned the strategies that work best for converting customers in the legal field.
Webrageous boasts an 85% client retention rate, which is unusually high for their industry. They maintain an A+ Better Business Bureau rating and were recently named a Top B2B Company by Clutch (based on their brand reputation and reviews). To learn more about Webrageous' strategy for more precise location targeting, call 855-945-1596 or visit www.webrageous.com.
About Webrageous
Webrageous is a leading pay per click management firm in the United States. They are composed of PPC management specialists who take time to learn the needs of their clients. From there, they tailor a custom PPC plan for them.
The post Webrageous Helps Google Advertisers Close Costly "Hole" in PPC Location Targeting first appeared on PRUnderground.
Press Contact
Name: Webrageous

Phone: 1-855-736-6285

Email: Contact Us

Website: http://www.webrageous.com/
Original Press Release.