Both figuratively and literally, the open floor plan design of the Great Room has become the center of the home and what many homebuyers believe they want. While it certainly can make a small home feel spacious, and it offers families the ability to stay connected while a multitude of activities takes place at the same time, it can also present functional issues. How do you hide kitchen messes from view? Where can you go when you want a quiet place to read, work, or give kids space to play?
(PRUnderground) December 14th, 2021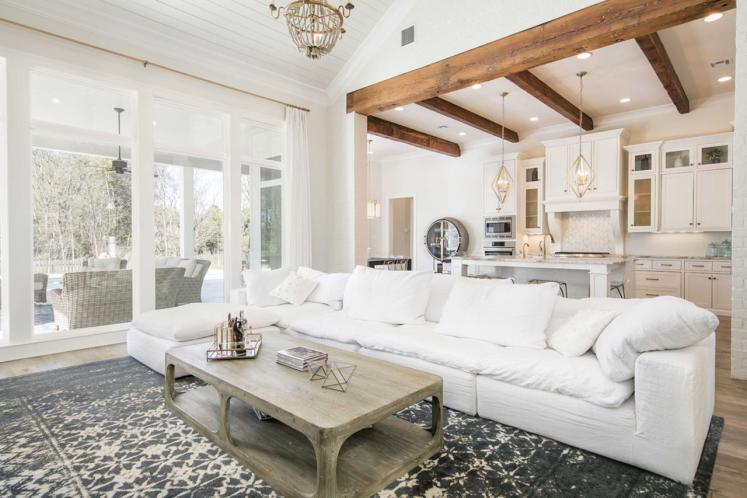 "The decision about whether or not to incorporate a Great Room really depends on the home buyer's preferred lifestyle, and the size of home being considered," said Rick McAlexander, CEO of The House Plan Company. "Great Rooms are fairly informal and have very little separation of space. This tends to work well for people who like to stay connected with the household and aren't concerned with occasional spillover between the functions of the space. Spaces with formal separation that offer dedicated functionality make it easier to keep activity in one area from interfering with another."
Over the past 40 years, home design has evolved to position the Great Room as the primary room configuration. The layout has also been adjusted to offer options that more closely align with home buyers' goals. The galley-style Great Room defines the space in a linear fashion, offering the most open living and flexibility, while an "L" shape can provide some separation while maintaining an open feeling. Rectangular Great Rooms provide the most informal living, with multiple rooms combined into one large, open space.
Before committing to an open floor plan centered around a Great Room, home buyers should ask themselves:
Do I want to be able to see all spaces contained within the Great Room at the same time?
Is formal separation preferred to keep activity in one area from interfering with another?
Is a Great Room needed to make a small house feel larger or to accommodate a variety of uses and occasions?
Is there room for other, non-connected areas that can provide adequate space and separation when user needs conflict?
Will a Great Room help people stay connected with each other while multiple activities are taking place at the same time?
Four designs featured by The House Plan Company that offer open floor plans centered around the Great Room include:
Offering modern cottage living in 3,254 square feet, this two-story design features 855 additional square feet of covered porch for those who prefer to extend their living space outdoors. An open, casual living room separates the main floor primary suite from another bedroom, while an upstairs bonus space that can be used as a den, office or library leads to two additional bedrooms.
Featuring a farmhouse design with 2,491 square feet of living space and expansive covered front and rear porches, this two-story design offers an open floor plan with high ceilings in the combined kitchen and living room. The Great Room separates a main level primary suite from the home office and guest space, while additional bedrooms and bonus spaces are located upstairs.
The modest, craftsman-style floor plan of the Alder design features 1,621 square feet of living space, with three bedrooms upstairs and an open floor plan downstairs. The kitchen, dining and family room space offers great connection, while a separate space that can be used as a formal living room or parlor is positioned close to the home's front entrance.
The modern design of Sunny Haven 3 incorporates the Great Room into the center of the house by opening the living room, dining room and kitchen to each other. All three bedrooms are upstairs, while a home office accessed from a the side entry near the garage offers distinct separation for a home-based business. Flexible space in the basement can be configured to the homeowner's preference.
When asked if there are any other everyday life considerations that should be thought through when evaluating whether a Great Room is right for a specific buyer, McAlexander noted that "a common request from home buyers is to separate the primary suite from the secondary bedrooms. In that case, the Great Room becomes the space to provide that separation, pushing it to the center of the home."
About The House Plan Company
Drawing on the nation's best designers and architects, The House Plan Company offers pre-designed house, garage and accessory structure plans to homeowners and builders on an easy-to-navigate website. The House Plan Company brings clients closer to its team of award-winning design professionals and architects to work cooperatively on customizing or modifying a house or garage plan to suit their needs. The House Plan Company features a vast collection of house plans, garage plans and accessory building plans in many different architectural styles and sizes.
The post The House Plan Company - Is the Great Room the Right Room for You? first appeared on PRUnderground.
Press Contact
Name: Jessica Craig

Phone: 541-688-1387 x 101

Email: Contact Us

Website: https://www.thehouseplancompany.com
Original Press Release.