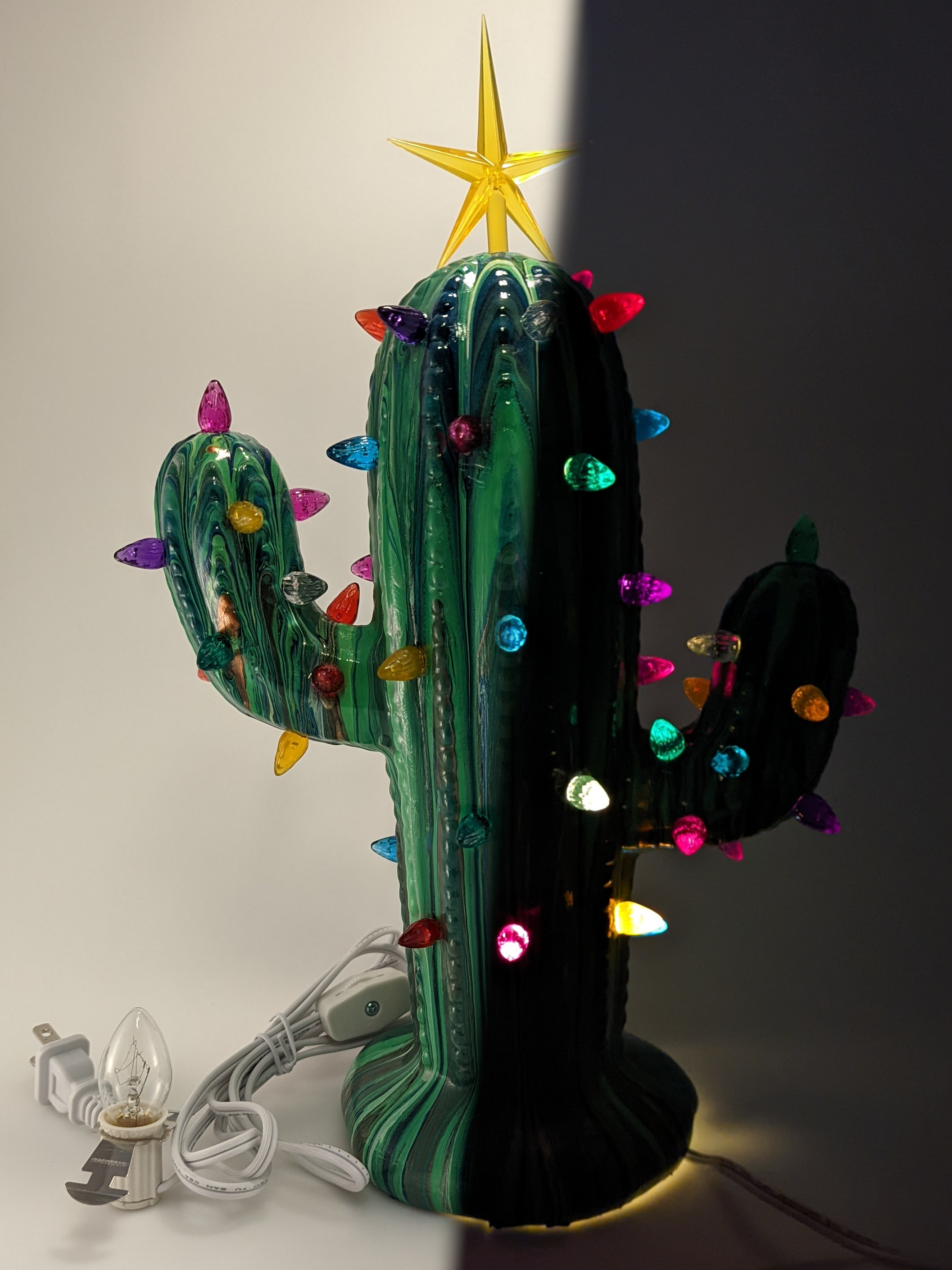 A huge hit at art fairs and festivals, ceramic cactuses are vintage but with a modern twist. Each one is different.
Art is a form of expression. However one may choose to describe art, it would be right. Some people are fascinated by art. Some appreciate it especially for its aesthetic qualities, and then some enjoy entering the maze of interpretation. Every painting tells a story, a story that can be different for every individual. Kristin wondered what would happen if she poured on something other than a canvas if she used a certain color combination. She started painting in 2015 and hasn't stopped since.
Kristin's vintage ceramic cactuses are now in stock and a huge hit at art fairs and festivals. They are vintage in style but with a modern twist. She uses paint pouring methods to paint each one by hand. Each one is different, even if they are with the same paint colors and methods. The creator of Paintpourium is addicted to painting. She loves learning new things and enjoys creating personalized gifts for people. She is not afraid of learning a new craft to make just the right item to bring smiles to people's faces. The smile on her customers' faces is what she lives by. Every product is guaranteed to be an original work of art. Kristin shows her work at fairs and festivals across the Phoenix Metro area. She is rapidly expanding and now is recognized by the locals. 
Paintpourium's business has been designated as a "Trusted Art Seller" with The Art Storefronts Organization, which means people can shop with confidence and know that Kristin stands behind the quality and value of her products. She shared, "Customers see the cacti at art fairs, and they always mention a grandmother that had one of the ceramic trees. They love the modern style and unique take on a classic holiday item. This will be something they bring out each year, and their family will always remember it. Just like I always remember my grandmother." 
About PaintPourium
Paintpourium sells original artwork, fine art prints, and merchandise. It is run by artist Kristin Dragos, who uses painting as a way to relax and destress. Kristin shows her work at art fairs and festivals across the Phoenix Metro area. For updates visit www.paintpourium.com
Media Contact
Company Name: Paintpourium
Contact Person: Kristin Dragos
Email: Send Email
Phone: 480-295-9530
City: Mesa
State: Arizona
Country: United States
Website: www.paintpourium.com