Environmental Impact and Dust ControlIn recent years the demand for quicker cycle times for both loading and unloading of ships, coupled with larger vessels, has caused an ever increasing demand for larger handling equipment. Whilst this is achievable it brings its own problems. As a direct consequence of the nature of crane and grab unloading, being open to the elements from hold to hopper, large quantities of dust are released from the displaced product. This can create an environmental problem—not to mention the effect on mechanical equipment at the port. GBM ecological Hoppers are fitted with numerous systems at both the intake, at the top of the hopper, and the discharge area of the hopper.
These systems are designed to reduce dust emissions to an acceptable level and can be ordered as required by the client. These systems are as follows…Material dropped from Grab, passes through a grid by opening or pushing aside the vertical flaps and flowing over the angled plates.Once product has passed through, the flaps fall back into their closed position.The displaced air volume within the hopper tries to escape, bringing with it dust, but once it reaches the flex-flap system the grid is sealed and so works as a non-return valve.Dust extraction/Filtration system plus ThimbleAround the top of the hopper a wall or thimble is installed. Flush with two sides of the hopper and positioned inside the other two walls this creates a cavity. Within this cavity, insertable reverse jet cassette filters are installed.
As a result of the flexibility of GBM supply the following products can be put through GBM unloading hoppers,but not limited to…Grains/CerealsSeed Cakes/Crushed Seeds(Soya bean etc)/Biomass/Fertilizers/Aggregates/Coal/Limestone/Cement/Clinker/Gypsum/Iron ore/Nickel ore.
Ref photo,located in cemet factory in davao, philippines: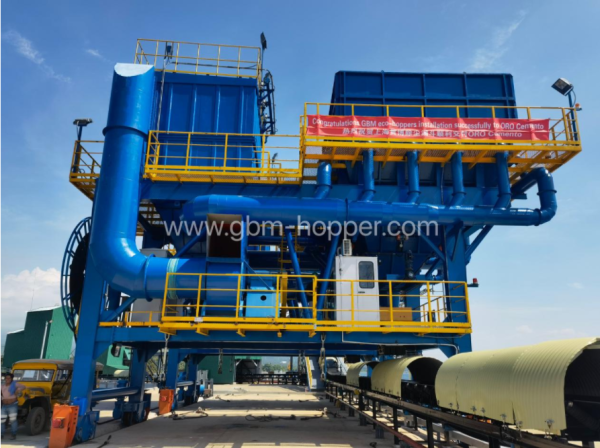 Media Contact
Company Name: SHANGHAI GUANBO MACHINERY EQUIPMENT CO.,LTD
Email: Send Email
Phone: (+86) 21 5088 0140 / 5088 0137
Address:3736-5 Hunan Road, Pudong
City: Shanghai
Country: China
Website: https://www.gbm-hopper.com/