Trick or Treat? Inflation & Why my Beer Bill was $75!
November 03, 2021 at 13:40 PM EDT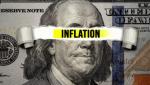 By Dan Weiskopf, ETF Professor I sure hope that Janet Yellen is correct, and inflation is transitory and not out of control (see here and here). I hope everyone enjoyed Halloween, a day filled with silliness and fun. To that point, I treated myself this past week to a package of 16 choice Halloween...