Could Cryptocurrency Be Sneaking Into Your ESG Portfolio?
October 25, 2021 at 12:46 PM EDT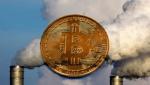 Crypto asset investing has the attention of many retail investors and continues to grow in popularity and appeal, particularly with the launch of the first U.S. bitcoin futures ETFs last week. Institutional investors are much slower to consider investing in the space, and so far, the volatility and...