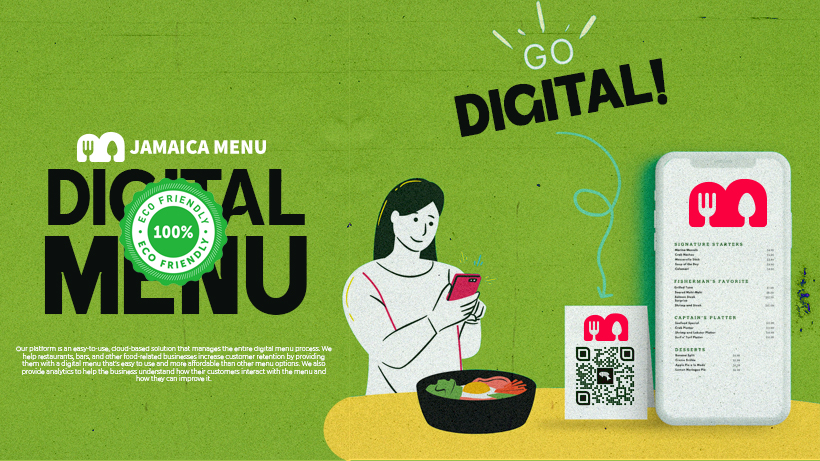 Andre O. Lewin, a passionate entrepreneur, announces the launch of Jamaica Menu, an innovative platform for digital menus for restaurant businesses in Jamaica.
The launch of a digital menu platform by Andre O. Lewin will challenge the boundaries in the restaurant industry in Jamaica by enhancing engagement between businesses and their customers. This platform, Jamaica Menu, is designed to enable restaurants to connect with customers in different parts of Jamaica with relative ease, allowing them to digitally view their menu and make it as seamless as possible.
"A menu for the connected world, at Jamaica Menu, we're on a mission to make sure that restaurants can manage digital menus seamlessly, and also keep their customers happy in the process," said Andre O. Lewin.
The global restaurant business industry has continued to evolve over the years, as more people seek delicious meals to treat their taste buds to the best possible experience. A recent report published by ResearchAndMarkets.com put the size of the global full-service restaurants market at $1.2 Trillion in 2020, with a projection that it will hit $1.7 Trillion by 2027. The emergence of tech solutions has further driven the market, as more businesses, as well as clients, go online to create an amazing feasting experience. Unfortunately, thousands of businesses across the industry are yet to fully leverage technology to enhance their operations. The case is not particularly different in Jamaica, which is where Andre O. Lewin aims to make a difference with the launch of Jamaica Menu.
Jamaica Menu allows customers to scan the QR menu of their favorite restaurants and easily go through the easy-to-navigate menu. The move will undoubtedly challenge the status quo in the Jamaican restaurant industry, allowing customers to enjoy amazing meals without a hard copy menu.
The launch of Jamaica Menu is particularly timely as the world seeks less physical contact by adopting digital solutions, especially amidst the ravaging Covid-19 pandemic.
For more information about Jamaica Menu and to enjoy the digitized experience, visit - jamaica-menu.com.
Media Contact
Company Name: Jamaica Menu
Contact Person: ANDRE O. LEWIN
Email: Send Email
Country: Jamaica
Website: www.jamaica-menu.com