October 22, 2021 - HAGOROMO releases its newest Chalk and Paper Blackboard Set, which helps kids learn, study, and get creative in an enjoyable way. This set of Chalk and Paper Blackboard is for those looking for a fun and exciting way to teach their kids and help them learn faster. The HAGOROMO's Chalk & Paper Blackboard Set is the ideal product for these creative solutions!
This product set contains everything that is needed for parents to teach their kids in a new and artistic way. Children can pick from a variety of colored chalk to draw and learn to their heart's content. However, this is not to say that there is only one use for this product. This set can be used in various ways, such as a sign for a café or restaurant, or simply as a board to write lists and errands on. When it comes to the HAGOROMO's Chalk and Paper Blackboard Set, the opportunities are endless!
The paper blackboard is thin but still has the same look and feel like a traditional blackboard, making this product portable and convenient to carry around.
The chalk provided has a protective coating on the outside that prevents powder from staining hands when being used. The product is perfect for preventing kids from getting messy while being creative. The chalk is easily erasable on the blackboard allowing for endless creative opportunities.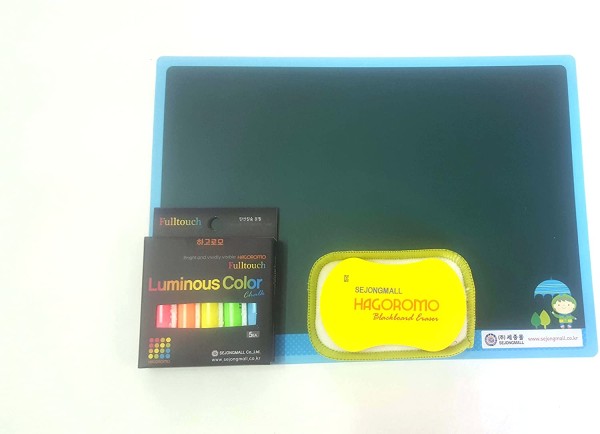 The microfiber magnetic eraser attaches itself to any blackboard, not limited to just HAGOROMO's blackboard. Its ergonomically designed cushion allows for easy grip and durability. The microfiber erasing pad can be detached from the handle and can be washed easily in the washer with water and soap, and this does not affect the product's durability and performance. Reuse this long-lasting eraser as many times as possible. The microfiber pad erases chalk or marker with excellence leaving no mess behind.
Made from high-quality natural calcium carbonate, this product set is non-toxic and safe for kids. HAGOROMO chalk and board markers are (KC) & CE certified. This means they also consider the safety of kids to be of utmost importance while learning.
Pick up HAGOROMO's Chalk & Paper Blackboard Set today and let your kids explore their imagination and creativity.
For more information or purchase, visit the Amazon Product Link.
Media Contact
Company Name: HAGOROMO
Contact Person: Andy Hong
Email: Send Email
Phone: +82 70-4038 9303
Country: South Korea
Website: www.amazon.com/dp/B074PKWB4Z