(PRUnderground) October 19th, 2021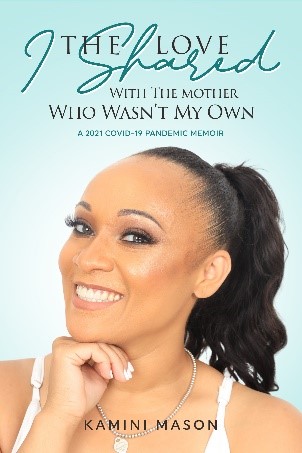 Author Kamini Mason is announcing the release of, The Love I Shared With The Mother Who Wasn't My Own – A 2021 COVID-19 Pandemic Memoir. The book debuted October 14 on Amazon, and is available now for pre-order at www.kaminimason.com.
The Love I Shared With The Mother Who Wasn't My Own chronicles Mason's journey of losing a great mother figure, whom she calls the pillar of her world, to the after-effects of the COVID-19 pandemic. "All of us have either lost or know someone who's lost someone near and dear to us due to COVID-19," she says, "Collectively, as a whole, the world is grieving."
Mason intends for her COVID-19 Pandemic Memoir to serve as a guide for readers to be able to reclaim a healthy life of acceptance. After experiencing her own personal highs and lows during the ongoing global pandemic, she views this memoir as her way of being able to share her story with people across the world who've endured something similar. "I want my readers to be able to aspire ambitiously, achieve relentlessly, and progress continually," she says.
Mason adds that though this memoir is about her mother figure, biological or familial times don't necessarily impact the severity of the losses many people have experienced during COVID. "Without that person there, without that person who used to be in our lives, that place is just void," she says, "However, we all go through life having many experiences – positive and negative – what's important is what we do with and learn from those experiences."
Mason is a former medical device company employee who is currently pursuing her Bachelor's degree in health care management. She's also announcing that she's directing a portion of the proceeds of the sale of her book to Family Aid Boston, the leading provider of solutions to family homelessness in Greater Boston, empowering parents and caregivers facing homelessness to secure affordable and sustainable housing. "I went through Family Aid Boston's program," she says, "and the skills they taught me have proven foundational to what I've been able to create for myself in my life today."
The post Author Kamini Mason Announces Release of Memoir, The Love I Shared With The Mother Who Wasn't My Own first appeared on PRUnderground.
Press Contact
Name: Kamini Mason

Phone: 617-412-0220

Email: Contact Us

Website: https://www.kaminimason.com
Original Press Release.