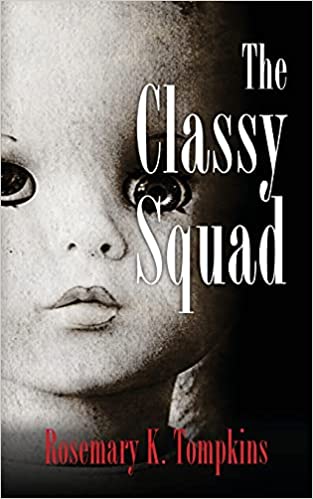 The Classy Squad: The Housekeepers Nemesis is a novel written by Australian based author Rosemary K. Tompkins. It is a story about finding love, with some twists and turns along the way. The story revolves around three main characters: Floyd, a widower who deeply misses his wife. A travelling salesperson. Irene Munster, a neighbor that is trying desperately to gain Floyd's romantic attention – although it is soon revealed she has a motive that is more than just romance. The final pivotal character is Mabel Tuttle, Floyd's lovely new housekeeper. Also central to this story is a collection of dolls and stuffed animals. These toys were deeply treasured by Betty, Floyd's late wife. The dolls each have their own name and personality, however they are collectively known as The Classy Squad. There are also a few supporting characters that interact with the main characters, giving them depth and authenticity. The main characters' personalities develop through their dialogue between each other and their inner monologues. Personalities also emerge through the actions of the characters, both the humans and toys!
The Classy Squad: The Housekeepers Nemesis has an easy-to-follow structure. The novel is organized into chapters and each chapter is from a different character's point of view. The story follows a chronological order, and the organization of the story makes it very clear who is telling the story in each chapter. The setting in the story is essentially Floyd's house, garden and immediate neighborhood. Each setting is described in great detail, from the Jasmine in Floyd's Garden to the pink and green cushions sitting atop one of his spare beds. Descriptions of antique dinners sets, teapots and napkins all aid to draw the reader into the story and make it come alive. Tompkins appeals not only to the reader's visual senses, but also to the sense of smell, describing the heavenly scents of garden flowers and home cooked meals.
The Classy Squad: The Housekeepers Nemesis is an interesting story with interesting characters and an intriguing plot that sets this story apart from other romance stories.
Pages: 346 | ISBN: 1456637991
Buy Now From B&N.com & Amazon.com
Media Contact
Contact Person: Rosemary K Tompkins
Email: Send Email
Country: Australia
Website: https://rosemaryktompkins.com