Innovative multicultural toy company, Orijin Bees, announces the launch of the unique black dolls, the Baby Bee Collection, at Target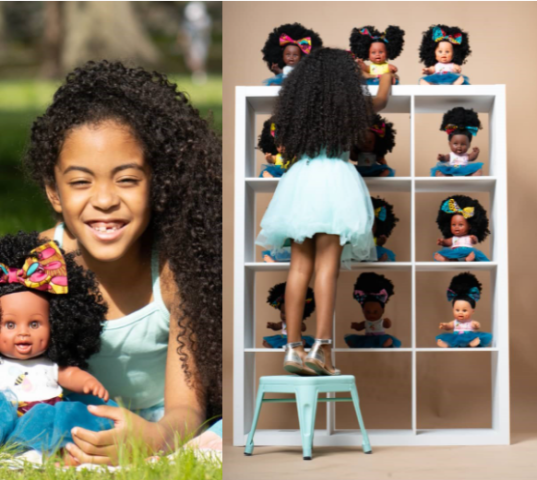 Photo credit: Danny Delgado
Multicultural Toy company, Orijin Bees, announced today that they launched their Baby Bee Doll Collection on Target online on October 5th, showcasing not only the variety of beautiful skin tones we have in our black and brown communities, but also the array of curly hair patterns. 
The company striving to improve racial equity through play was birthed after Esi struggled with her confidence from being the only black girl in her class. This new deal with Target represents a milestone achievement for the brand, who continues to grow their toy line to empower girls like Esi to find self love and pride in their identity by ensuring representation in their toy boxes.  
"As a purpose driven brand, we are determined to help broaden the view of beauty to include black and brown girls of every shade and hair texture." Said Founder Melissa Orijin. "As a mother, I felt I had to do more for my kids, my family, my friends, and also for the many kids out there who I've never met but who I know struggle the way Esi did, not seeing others like themselves in their classrooms or even among their toys at home." Melissa said of her inspiration to start the brand.  
The Orijin Bees Baby Bee collection was created with the goal of instilling self-love during pretend play, helping young girls build the confidence to know their worth and, ultimately, become leaders of the future.  
To shop the Orijin Bees Baby Bee collection, visit Target.com or go to orijinbees.com for more information and to see the entire line of toys. 
About Orijin Bees 
Orijin Bees, also written O.R.I.J.I.N.B.E.E.S, stands for Our Representation is Just Inclusion Normalized, Beautifully Empowering Every Soul.  
Through the line of toys, Melissa Orijin is joyfully helping her daughter, who is of Cabo Verdean and Ghanaian roots, as well as young children like her, develop a strong sense of pride in their identity, culture and in their beautiful skin and hair. 
Also, be sure to follow the brand on Instagram @OrijinBees
Media Contact
Company Name: Orijin Bees
Contact Person: Media Relations
Email: Send Email
Phone: 1-888-674-5462
Country: United States
Website: orijinbees.com