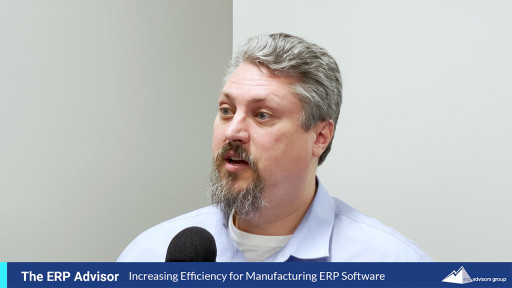 Quentin DeWitt, Director at ERP Advisors Group
DENVER - September 24, 2021 - (
Newswire.com
)
On Wednesday, September 15, ERP Advisors Group held a webinar and podcast to discuss trends in ERP software for the manufacturing industry, including configure price quote tools, inventory control, and material requirements planning. A recording is available at erpadvisorsgroup.com/blog.
Shawn Windle, Managing Principal of ERP Advisors Group, stated, "We are seeing that manufacturers are willing to make ERP investments now that they would not have considered even one or two years ago. They are saying that they need to change, they want to change, and they have the capital to do it."
In this webinar, ERP Advisors Group detailed how depth of automation is improving shop floor execution and the ability to track time and materials included in a work order.
Special guest Quentin DeWitt, Director at ERP Advisors Group, added that, "When you're looking at any software change in a manufacturing organization, really look across the entire organization — because technology can only help you as much as you allow it to help you."
Click here to register for more events with ERP Advisors Group.
ERP Advisors Group is one of the world's most trusted enterprise software advisory firms. ERP Advisors Group advises mid to large-size businesses on selecting and implementing business applications including ERP, CRM, HCM, business intelligence, and other enterprise applications which equate to millions of dollars in software deals each year across many industries.
Press Release Service by
Newswire.com
Original Source:
ERP Advisors Group Offers Insights Into Manufacturing ERP Solutions