The company has released a new wave of evolution in ad production automation.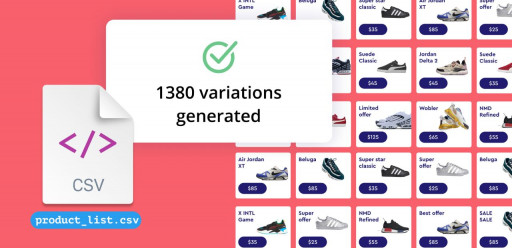 NEW YORK - August 30, 2021 - (
Newswire.com
)
The modern advertising market is growing and changing not just every year, but day by day. Whereas previously the campaign could be changed every approximately 10-14 days, now campaigns have become larger and require frequent changes. And equally important, they require a lot of creative variabilities to catch customers of different targeted audiences.
There are lots of software solutions to create ads. The challenge, as usual, lies in automating better-quality ads in less time.
Feed generation - the feature that helps ad campaigns go live faster
Viewst has released feed generation, enabling marketers to turn their CSV files into hundreds of ads with different stories, colors all staying on brand. From any html5 banner, Viewst will create tons of other banners just like it. Feed generation will speed up ad production. This feature provides three great opportunities: simplification of work, reduction of ad production time, and facilitating increased variability, thereby allowing greater earnings. It is extremely important for large-scale advertising campaigns, retargeting campaigns, A/B testing, etc in such spheres as e-commerce, retail, FMCG.
Video explanation about how this feature works is already on Youtube. 
What is Viewst all about?
Since digital media has exploded and creative teams have not been able to keep up, Viewst has built the most simple editor for media teams to make their own banner ads and a workspace to collaborate with the creative team. Viewst is transforming how media teams look and work with their banner ads.  
The first version was launched in April 2020. In one year, the team has shipped killer features, namely smart resize - to create different sizes from one master banner; team access - to collaborate in teams; background removal; variable content generation and lots of other essential improvements. We will never stop building the most simple and effective tool for media teams to take control of their creatives. 

Media contact
Eve Shalenko/CMO
jshalenko@viewst.com
Press Release Service by
Newswire.com
Original Source:
Viewst Announces the Release of the Next Killer Feature - Feed Generation