Will It Be a Fourth Quarter Comeback for Gold This Year?
August 27, 2021 at 11:28 AM EDT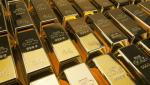 The Federal Reserve has gold investors waiting on their next move to shake up the markets, and that may not come until the fourth quarter. Gold prices have been in somewhat of a holding pattern and could push to $1,900 an ounce, according to Bank of America. "In its latest forecast published...