Could Biotech ETFs Get Another Boost From JNJ News?
August 26, 2021 at 16:50 PM EDT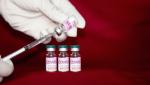 This has been a pivotal week for biotech news, as Johnson & Johnson said Wednesday that a booster shot of its COVID-19 vaccine generated a promising immune response in early stage clinical trials. This follows the Monday news that the FDA fully approved the Pfizer and BioNTech COVID-19...