The World's Beloved Japanese Beauty Brand is Redefining Modern Beauty From the Inside Out
(PRUnderground) August 18th, 2021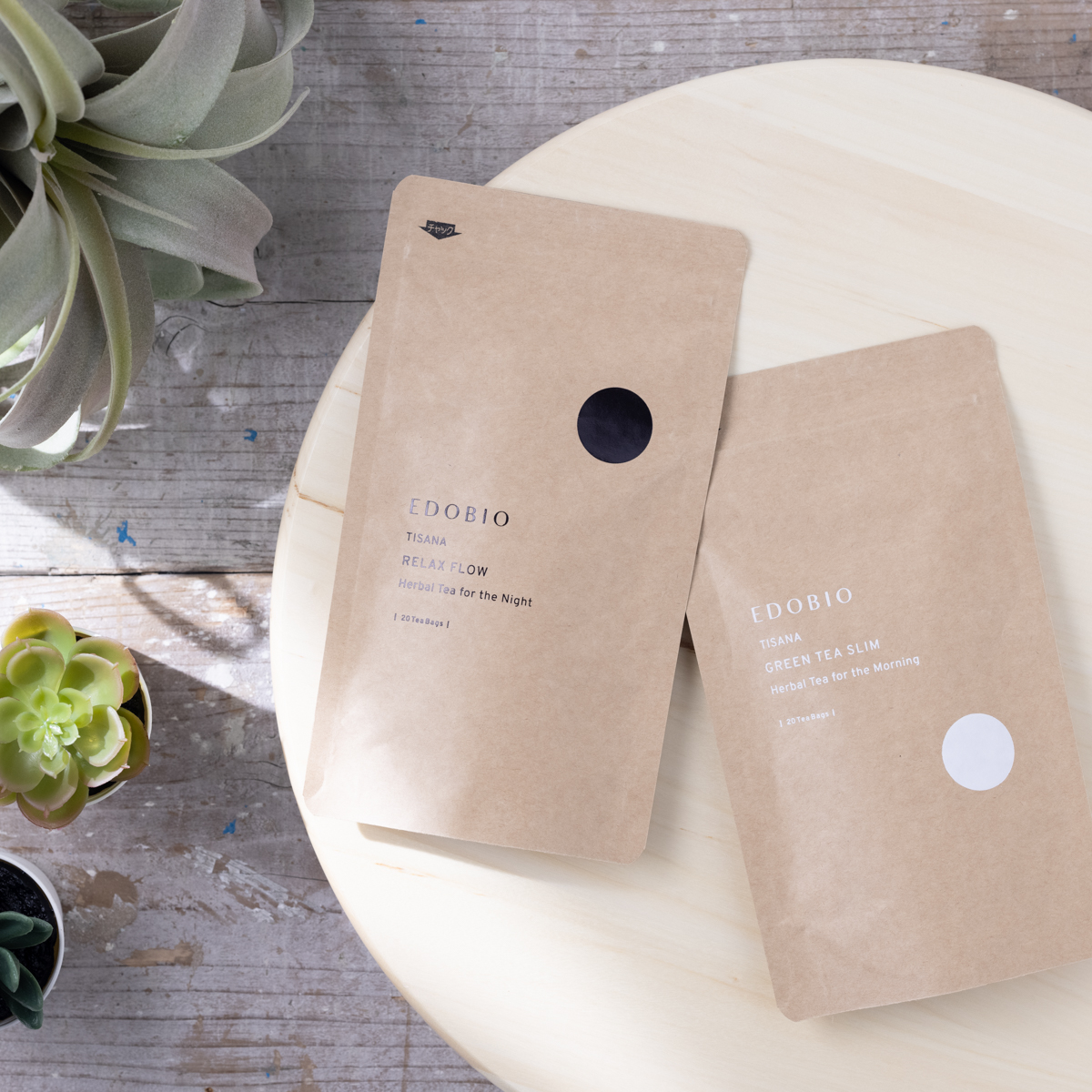 Japanese beauty brand Edobio is proud to announce the launch of two herbal tea products in a new sachet style tea bag. The Green Tea Slim and Relax Flow, are already a staple in Edobio's lineup and can now they can be enjoyed in a new convenient format.
First introduced as the Blended Herbal Tea lifestyle selection, Edobio was inspired to create its line of herbal teas to be a support to beauty and health. By offering delectable blends that can be enjoyed morning and night, the brand hopes to inspire daily rituals that promote overall wellness.
For the A.M. Green Tea Slim 40g (20 tea bags ) is Edobio's go-to blend for healthy metabolism and fitness. Ingredients for this innovative blend include nettle leaf, juniper berry, chicory root and lemongrass, which works to reduce water retention in the body.
Relax Flow 40g (20 tea bags ) is the P.M. companion to this herbal tea duo, meant to be enjoyed at the end of the day to relieve stress and relax the mind. To accomplish this, Edobio has combined nine different herbs including lemon verbena, calendula, elderflower and rooibos for the ultimate soothing elixir. Both tea are formulated with "Kunisato Number 35" blueberry leaves and genmai (brown rice) from Fukuoka Prefecture.
The secret behind Edobio's herbal tea blends is a three-principled approach focused on:
Supporting the tastebuds of the modern, hardworking individual
Unique blends combining Italian herbs with Japanese tea leaves

 

A fusion of Western and Eastern tastes that can be added to your daily routine
By choosing to focus on these three components, Edobio has curated a line of herbal teas exquisitely formulated to holistically support wellness and boost your natural beauty. Additionally, because the brand has emphasized the importance of creating flavorful formulas, the teas can be enjoyed morning and night, every day of the week.
Edobio is a brand focused on using only the highest quality botanical ingredients. To create their herbal tea blends, Edobio has sourced several homegrown components to include in its tea products. Through proof of concept, dedication to the craft, ad unwavering commitment to revolutionizing modern beauty from the inside out; Edobio's purpose-driven vision has come to fruition. 
To learn more about Edobio, please visit: www.edobio.com 
About Edobio
Edobio is a Japanese beauty brand deeply rooted in traditional Japanese beauty rituals. Founded in 2018, Edobio brand marries old world ingredients with today's cutting-edge cosmetic technology to create cosmetics, skincare and a variety of other products. Edobio's formulations utilize soil-based probiotics that contain adaptogenic compounds including sake lees, and the brand's hero ingredient BiProGE lactic acid bacteria which has been cultivated via cross-fertilization with lactobacillus and yeast contained in the soil of rice paddies. Loved by both men and women worldwide, Edobio stores can be found Japan, Singapore, Malaysia and the United States, with an online platform serving a global demographic.
The post Edobio Launches Herbal Tea Blends in a New Sachet Style Tea Bag first appeared on PRUnderground.
Press Contact
Name: Shohei Yamada

Phone: +819063830063

Email: Contact Us

Website: https://edobio.com/
Original Press Release.