What Is John Deere Doing in a Disruptive Tech ETF?
August 16, 2021 at 15:17 PM EDT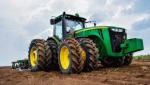 The industrial sector isn't a group many investors associate with disruptive growth and innovation. After all, companies like Boeing (NYSE: BA) and Caterpillar (NYSE: CAT) are viewed as large, old, and perhaps even sleepy entities. However, a glance at some of ARK's actively managed...