Is India Creeping Up on China's Economic Dominance?
August 13, 2021 at 10:16 AM EDT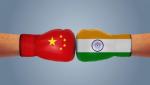 China is usually the largest country weight (and by a wide margin) in broad-based emerging markets indexes. Yet that tide could be turning of late as Beijing cracks down on once high-flying internet and tech companies. While that's happening, the WisdomTree India Earnings ETF (NYSE: EPI) is...