Worried about Frothiness in the Real Estate Sector?
August 11, 2021 at 13:14 PM EDT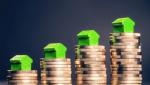 Real estate prices keep rocketing higher, prompting market experts to wonder whether the market is getting frothy and posing an interesting opportunity with strategies like the Invesco S&P 500® Equal Wt Real Estate ETF (EWRE). Per the fund's description, EWRE seeks to track the investment...