Looking for a Happy Medium in Your Effective Bond Duration?
June 09, 2021 at 10:58 AM EDT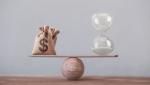 Intermediate bonds can give fixed income investors a middle ground for long and short duration via an all-encompassing asset like the Vanguard Intermediate-Term Bond Index Fund ETF Shares (BIV). BIV seeks to track the performance of the Bloomberg Barclays U.S. 5-10 Year Government/Credit Float...