Can Crude Oil ETFs Continue To Climb?
May 13, 2021 at 14:02 PM EDT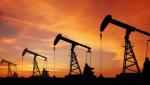 While stocks are moving higher, crude oil is losing considerable ground Thursday, after scoring a two-month high on Wednesday, as U.S. crude exports tumbled, and indications of a swifter economic recovery and forecasts for increased energy demand drove prices higher. U.S. benchmark, West Texas...