Is the Best Still to Come for Gold and the OUNZ ETF?
March 31, 2021 at 03:55 AM EDT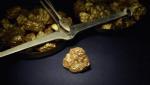 Can gold recapture its glory from 2020? Some analysts seem to think so, with Wells Fargo setting a lofty price target for the precious metal, which should help boost the VanEck Merk Gold Trust (OUNZ). Per a Kitco News report, Wells Fargo is seeing early signs of what could be a stronger rally later...