Are Ultra-Short Bond ETFs the Place to Safely Park Your Cash?
March 29, 2021 at 08:00 AM EDT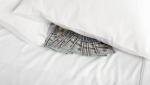 As concerns mount over the spike in coronavirus cases in Europe and potential tax hikes to offset the latest stimulus package spending, U.S. money market funds have experienced a big surge in demand. Investors seeking to park their money in cash alternatives can also consider ultra-short-duration...