A Banner Year for Tax Loss Harvesting?
December 26, 2020 at 10:00 AM EST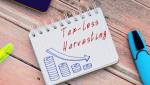 By Salvatore J. Bruno; IndexIQ Tax loss harvesting involves selling securities to generate a loss that can be used to offset capital gains in other parts of a portfolio, with the proceeds reinvested to maintain the desired market exposure. Given this year's high levels of stock market volatility...