Is Gold, OUNZ ETF Poised to End 2020 on a Positive Note?
December 24, 2020 at 11:37 AM EST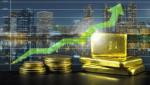 As investors start to reposition their portfolios for 2021, one question on their minds is whether to add gold. With the recent weakness in the precious metal, it could present a prime buying opportunity that could see gold end 2020 on a positive note with interest in ETFs like the VanEck Merk Gold...