Can the Dominance of Gold ETFs Continue?
November 30, 2020 at 12:43 PM EST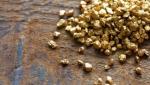 The pandemic gave rise to a golden era for gold prices in 2020, but will the good times continue? Additional stimulus measures could provide more bounce to gold ETFs like the VanEck Merk Gold Trust (OUNZ). OUNZ seeks to provide investors with an opportunity to invest in gold through the shares,...