Are Sustainability-Linked Bonds The Next Big Thing in ESG?
October 08, 2020 at 13:01 PM EDT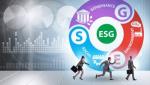 The rise of environmental, social and governance (ESG) investing is causing providers to offer new products to help differentiate themselves from the masses. One of the newest offerings could become the next big thing in ESG–sustainability-linked bonds. "Finance chiefs are selling a new...