Will the Deficit and Deglobalization Crush the U.S. Dollar?
June 19, 2020 at 12:54 PM EDT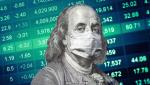 Will a post-pandemic world not be conducive to the U.S. dollar? With trillions of dollars necessary to fight the coronavirus pandemic coupled with deglobalization, the greenback has major headwinds that are forthcoming. "The US economy has been afflicted with some significant macro imbalances...